mobile : 82811265 E-mail : 2409848432@qq.com
2022年11月25日到2022年12月29日 期间在新加坡,欢迎垂询商谈。
In Singapore from November 25, 2022 to 
December 29, 2022, welcome to inquire.
这是一封给我的商业伙伴的信件:先知道一下我的情况,
之前在UBI工业区因为制造打印机的特别配件,
被新加坡国庆庆典部选用,成为2006年国庆赞助人。
2008年在日本开设Ecoink株式会社,Airsmoo株式会社。
在我原来的工程机械精密制造的基础
上研发设计的一款空气熨烫机,并申请了五项专利。
一款优秀的家电产品,并且已经到第四代了。
在日本市场这个产品在同类电器行业评分,最高是5分,
Airsmoo产品达到4.93分。新加坡湿度大,雨季多,
地处热带更是可以在省电的状况下,18瓦的功率就可以
把一件衣服烘干熨烫好,使用的电量只相当家庭照明一个灯管。
耗电量可以调节功率分别为18w.300w.600w.900w。
本产品运作状况下噪音为53分贝,
经日本专业协会全性能运作情况下,耗电量,
噪音的测量。(有测试报告)。
Airsmoo干燥熨烫机零售价相当于平均新加坡人一天的薪水,
每个家庭减轻劳务重要的家用电器需求。
airsmoo-04的系列产品都带回新加坡,
确定的讲这个产品在目前国际上是一个独一无二的产品,
新加坡出口到国际市场、码头、仓储、
海关的方便高效,
这次回新加坡发展也是airsmoo国际市场的布局。
我本人是新加坡人,因为一直在国外经商,
还没有在新加坡买房子。
利用这一次回新加坡发展商业的机会,
在新加坡购置一处500万新币的房子。
作为新加坡公民免税,30%的房产税,
新加坡事业成为一起分享的伙伴。
现代家电有电饭煲,洗衣机,洗碗机,
扫地机,有了Airsmoo产品大部分家庭就不再需要雇帮佣。
愿景是本产品能够让新加坡家庭减少200000的雇佣。
达成家庭轻松方便安静的环境。
具体的可以用email或者是微信,
这两个相对沟通还是比较方便,
语音、文字、图片、视频的传输都相当容易用。

Mr.Yo Oiwa

Dear Sir/Mdm,
I am a Singaporean, and used to be the 
owner of Inkstation Pte Ltd, 
located in UBI Industrial zone, which made 
some products and spare-parts for 
different kind of printers, as those products
were so unique, and sometimes were tailer-made, 
they had been selected 
in the celebration events in National Day, 
thus I was honored to be a sponsor 
of National Day 2006.
As Japanese printer- industry has been 
the pioneer in the world, that creates 
a lot of new ideas or new concepts , 14 years ago
 I  moved to Japan and set up 2 
companies in Tokyo, called " Ecoink Pte Ltd", 
and "Airsmoo Pte Ltd". Not like Singapore, 
Japanese normally does not hire maid at home, 
and all housework must be done 
by householders, such cloth-Ironing job is really
headache job, thus I have designed and 
developed a  new kind of mini-air-ironing-machine, 
which has been modified and upgraded to the 4th 
generation so far, with many patents registered in
Japan, and my products has got 4,93 point, 
5 point is the highest score in electrical 
appliances markets in Japan.
The temperature in Singapore can also 
save electricity. 
A clothes can be dried and ironed with a 
power of 18 watts,  which is only equivalent to 
the power consumption of a household lamp. 
Airsmoo power consumption. Adjustable power 
18w. 300w. 600w 900w, 
noise of air ironing machine in operation, 53dB. 
Similar products are 
usually 50 decibels to 70 decibels. 
The measurement of power consumption 
and noise of Airsmoo air ironing machine under 
the full performance operation 
of the Japanese professional association.
In some appliance exhibitions in last 2-3 years, 
I had a couple of chance to conduct virtual 
communication with some businessmen 
from Singapore, and understood that they 
were also very interested in my products, 
but can not show them the goods physically due to 
restriction of Covid-19. I really wish to have 
a chance to demonstrate my machine as well 
as its functions in Singapore
Now, I am planning to visit Singapore 
during 25November -29December , 
cab you please arrange 
a time for me to do a demonstration, which may 
change or improve the life style in Singapore.

Meanwhile, my products not only show an 
excellent effectiveness, 
but also very competitive in terms of costs, 
believe it can find a huge potential 
buyers in Singapore.
Airsmoo Co., Ltd. Japan     Mr.Yo Oiwa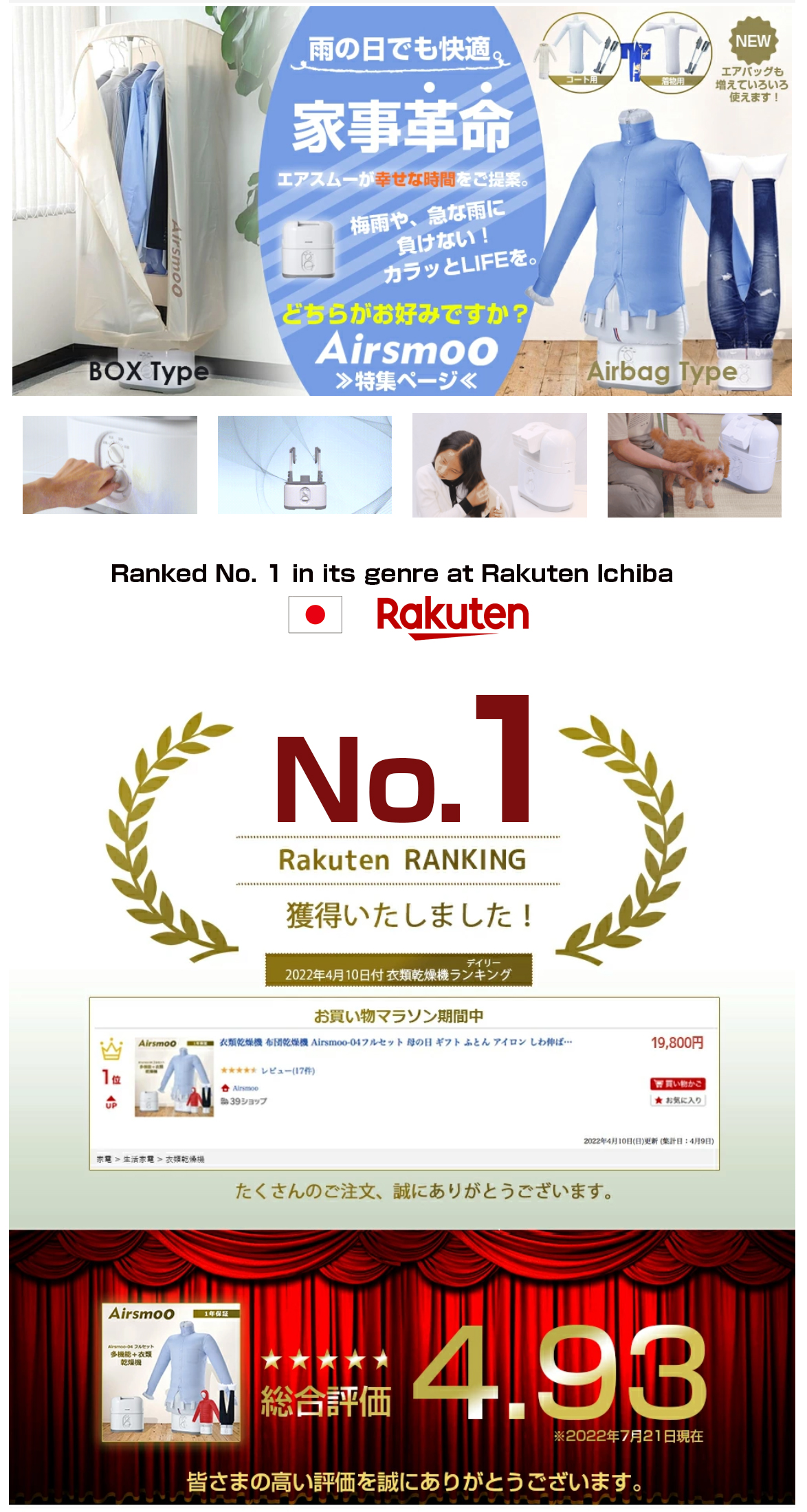 Airsmoo 英語対応 こちらクリック
Airsmoo English support Click here
エアスムー Airsmoo-04 新登場!

    Airsmoo-04  多機能Airアイロン乾燥器
Airsmooは進化し、
新しいライフスタイルをご提供することを約束します。
新商品登場
「airsmoo(エアスムー)」は、急速乾燥とアイロンがけ同等のシワ伸ばしが同時にできる衣類乾燥機能やドライヤー、ヒーター、布団乾燥など1台で何役もご利用いただける多機能乾燥機です。    
参考上代
19,800円(税込)
サイズ
幅34cm×高35cm×奥行20.5cm
重量
3,900g
耐荷重
5,000g
セット内容
本体、本体用フタ、蒸気ガード、重り付きクリップ×4、襟止めクリップ、MサイズAirバッグ、L(XL)サイズAirバッグ、ボトムスAirバッグ
材質
本体:ABS、PEI
連結ロッド:アルミ、プラスチック
エアバッグ:ポリエステル
定格電圧
100V
定格周波数
50/60Hz
定格消費電力
送風 18-高温 880W
電源ケーブル
170cm
注意事項
商品ページに記載されている物以外は付属しません。

小さなお子様の手に届くところで保管、使用しないでください。

ケーブル等は無理やり引っ張ることはしないでください。
梱包サイズ
幅36.5cm×幅37.5cm×奥行22.5cm
保証期間
1年間 ※保証書、お買い上げ明細書を保管してください
※
製品仕様は改善のため予告無く変更する場合あり。
       One  more thing….
Airsmoo-F
オートタイマーで全自動調理が可能!日本初の回転式プレートを導入。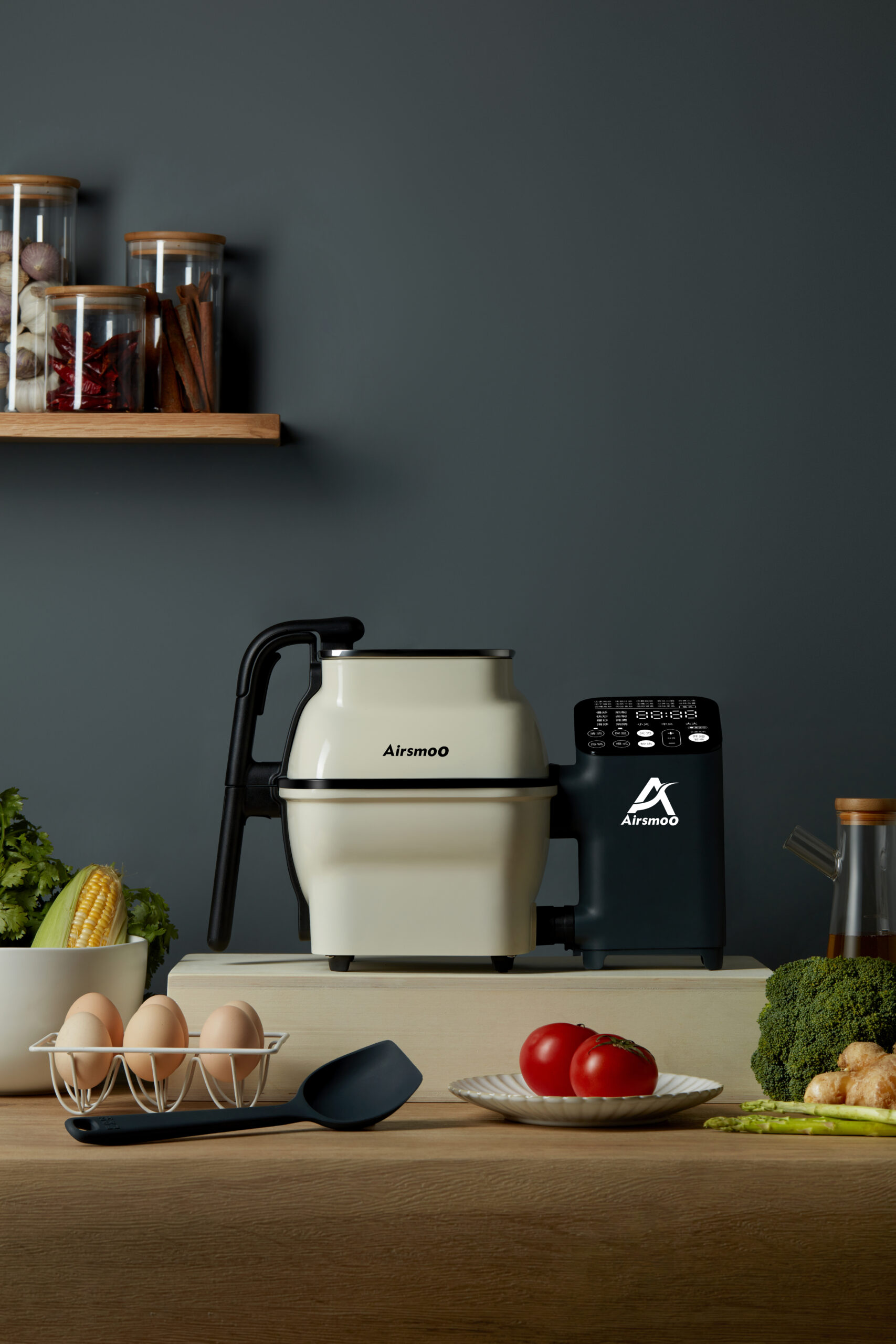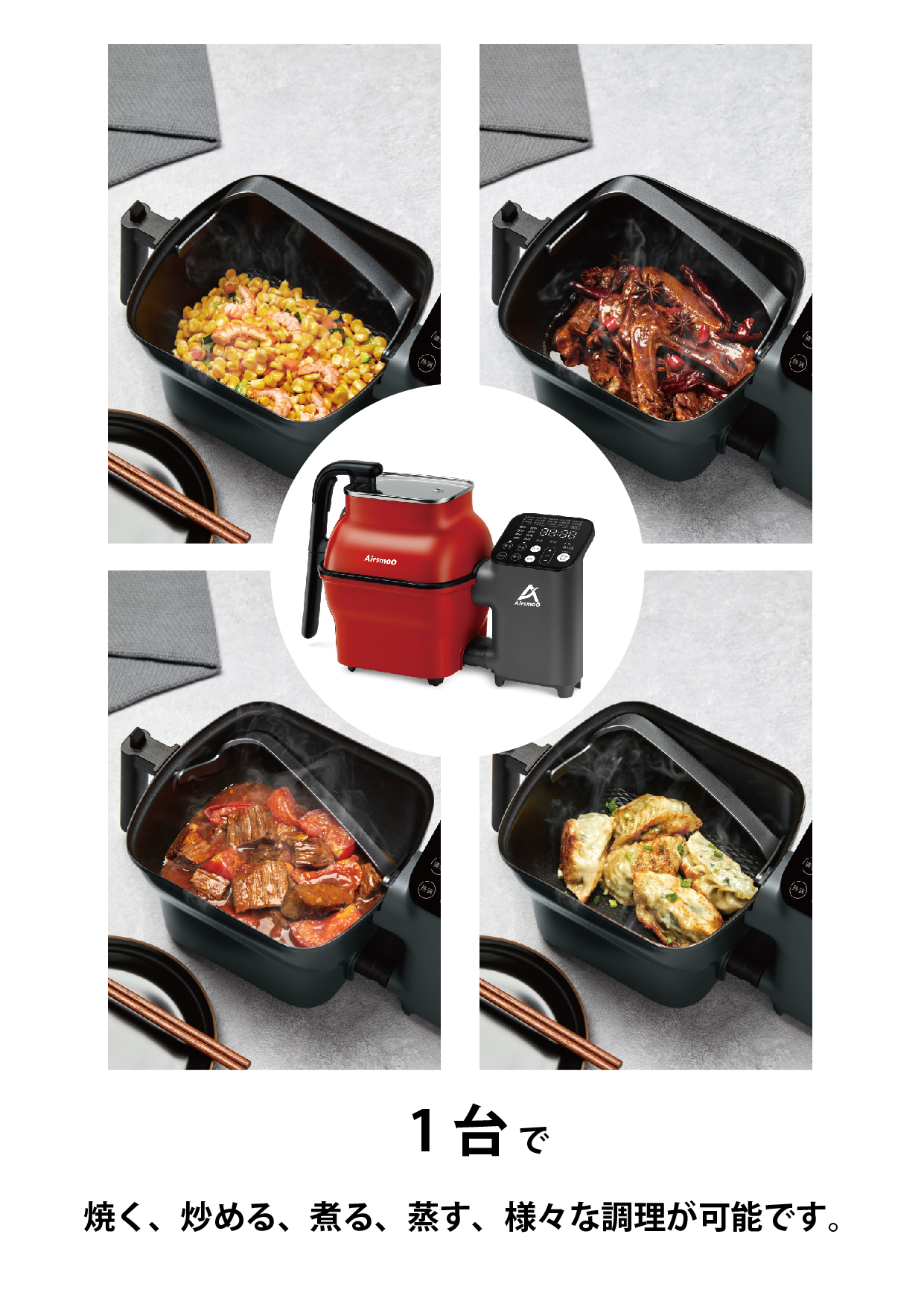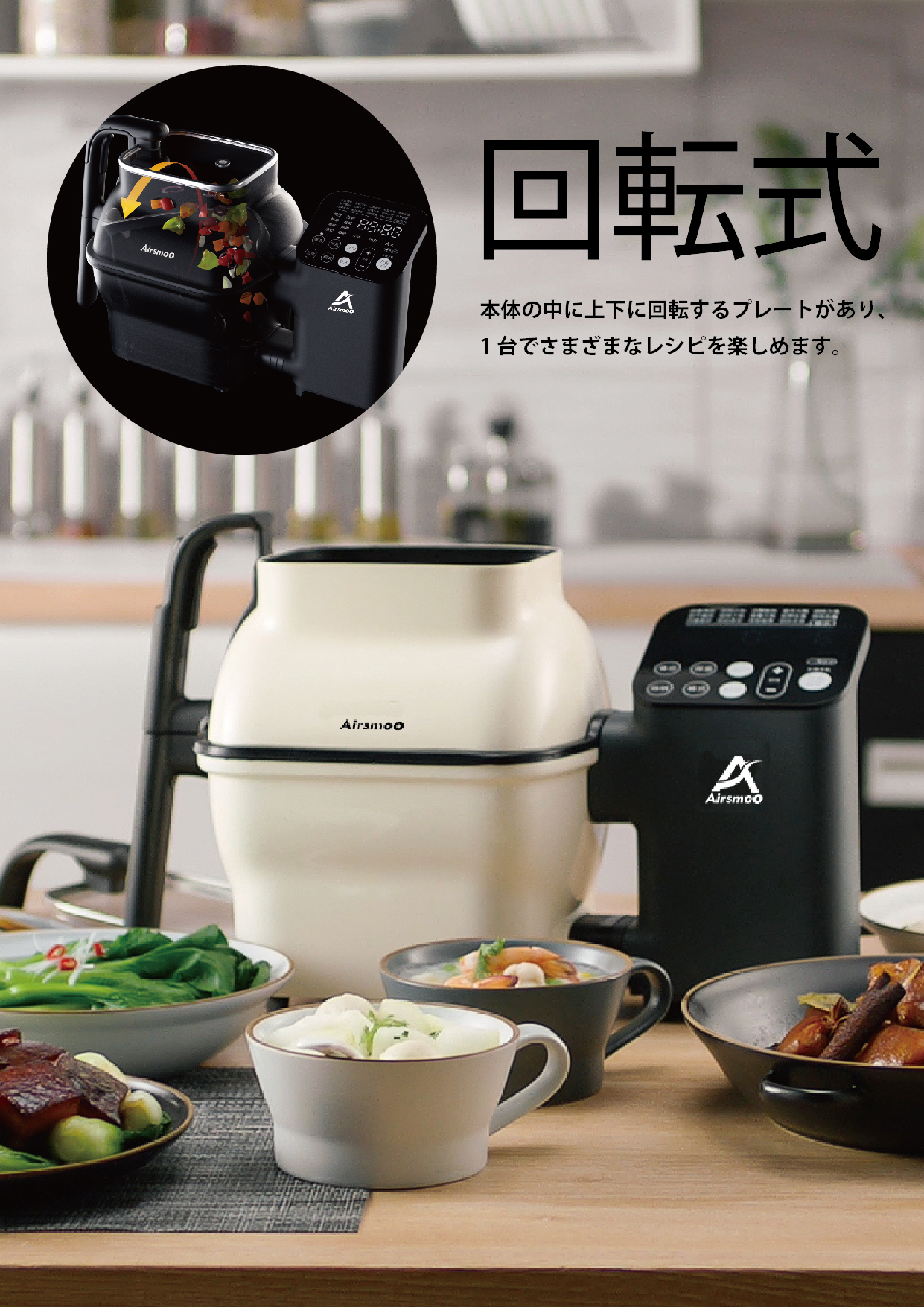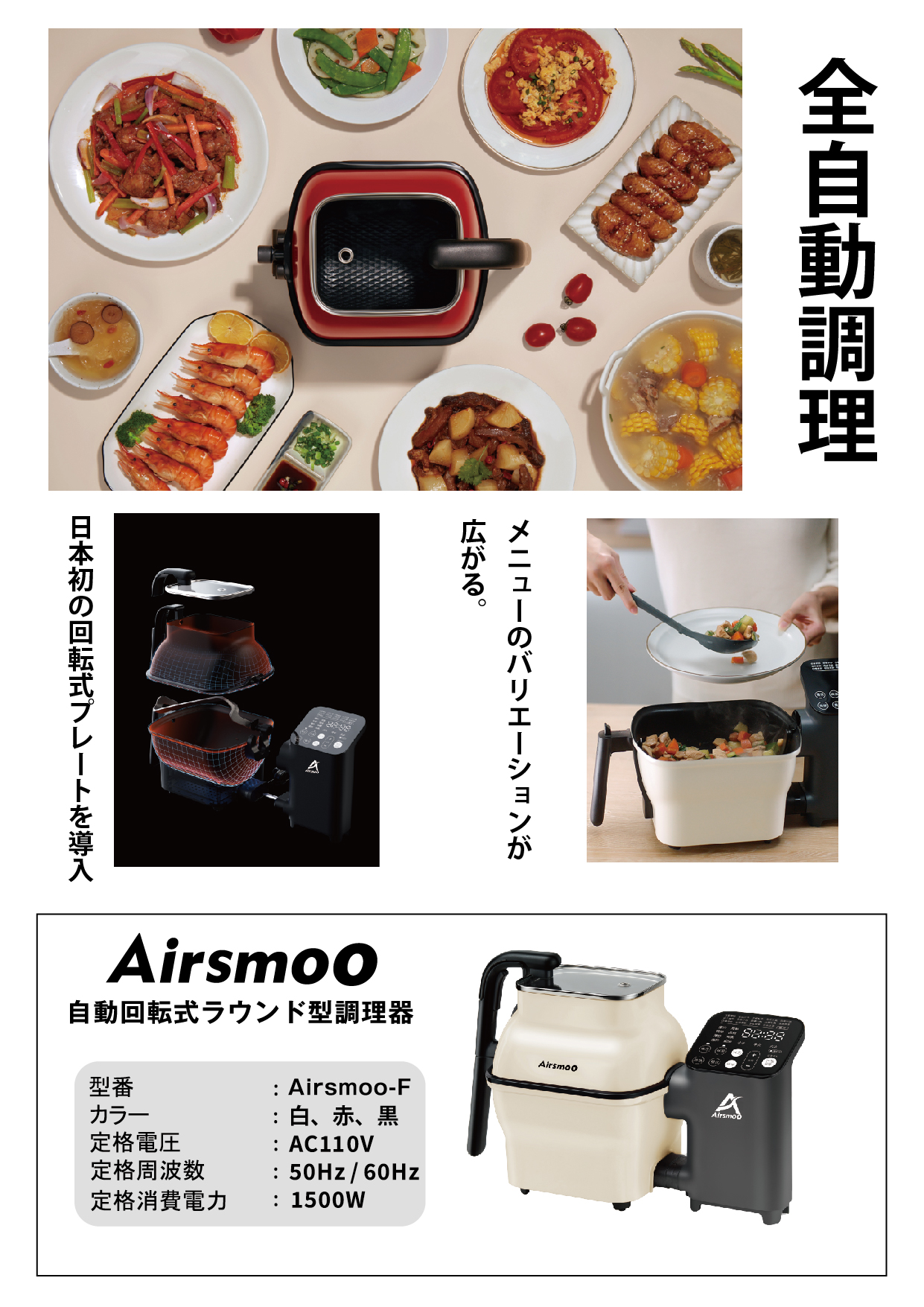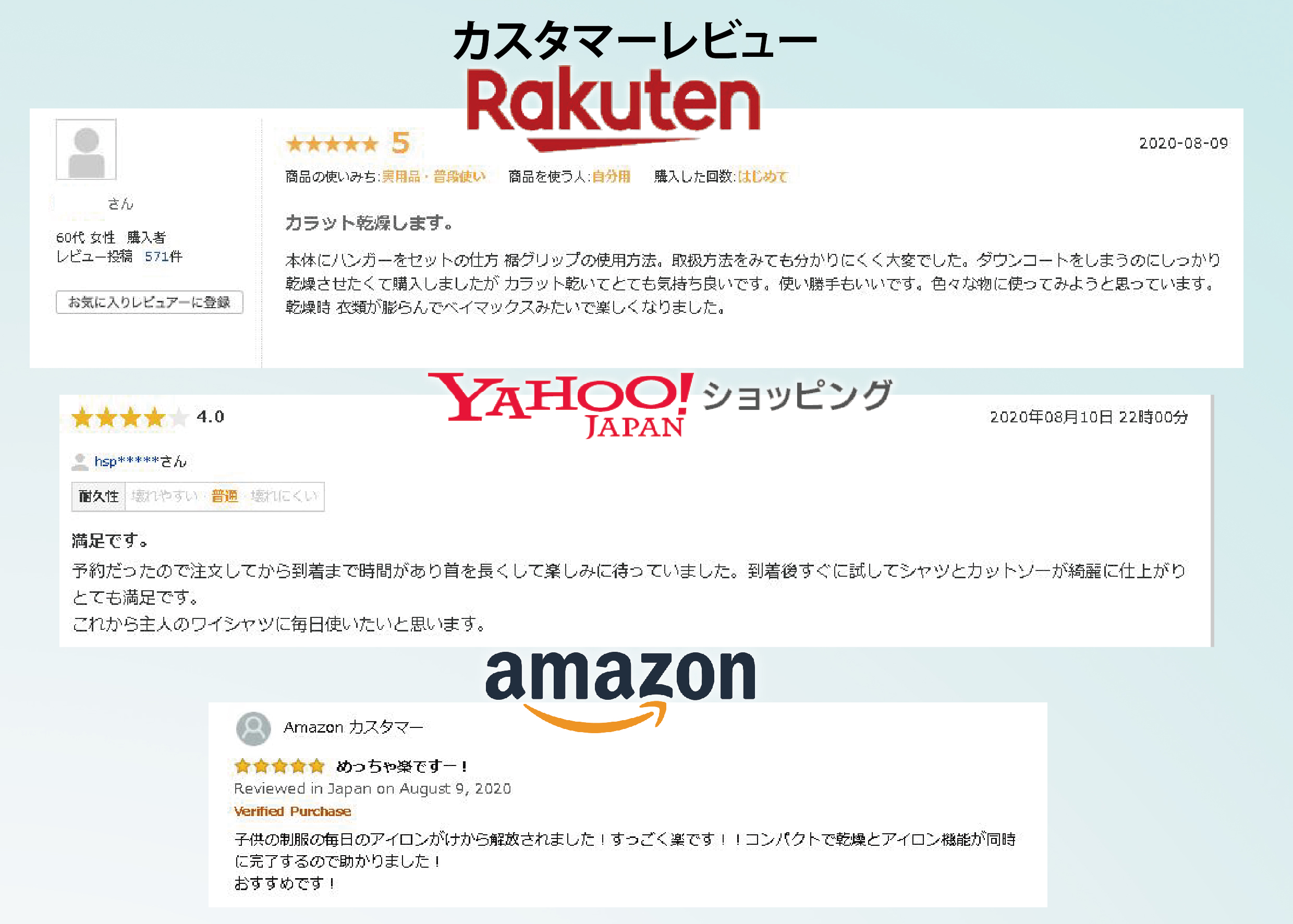 カスタマーレビュー
私たちのセールストークよりもお客様のAirsmoo(エアスムー)の評価を見てみましょう。お客様がこの商品を使用し、体験をシェアしてくれております。